News Associates launches free student media editorial leadership course
We're showcasing our love of student media and the importance of non-academic journalism training by launching a free student media editorial leadership course.
The course will teach student editors essential newsroom skills in order to prepare them for a career in journalism.
We're working with some top industry experts from across the media landscape to deliver a remote five-week course covering everything from story sourcing and pitching to office politics and networking.
Our first student media editorial leadership course will run in March 2021 with future cohorts taking place annually in November to teach incoming student media editors how to successfully manage a team.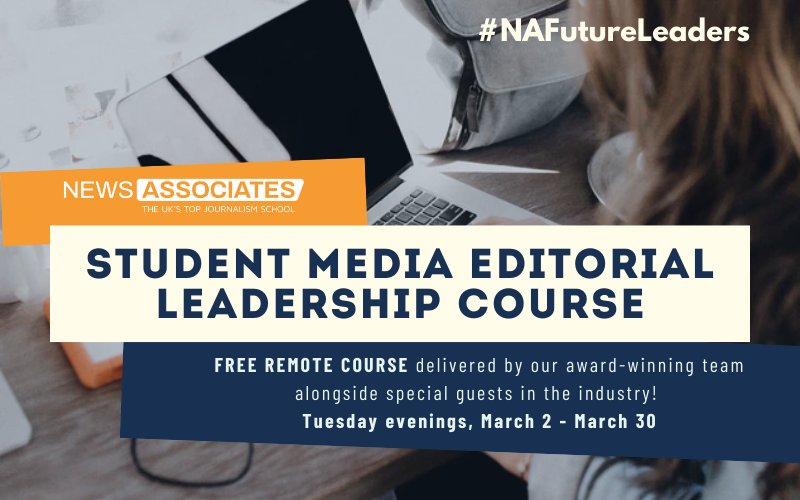 News Associates deputy managing editor Graham Dudman, who will be leading the delivery of the course alongside a whole host of special guests, said: "This unique course will give participants a chance to understand and learn key non-academic tools needed in today's newsrooms.
"Everything we cover will be practical, realistic and essential skills to help secure that all important first job in journalism."
Students will also have a unique opportunity to make contacts with key industry figures as well as networking with the other aspiring journalists on the course.
News Associates editorial development manager Lucy Dyer said: "I always talk about our courses preparing you for life in a newsroom, not just passing exams, and this is a perfect example.
"I'm also so pleased we can offer this great networking opportunity to student media editors who have run their uni publications in lockdown!"
The classes will take place every Tuesday evening in March – there is no pre-reading or marked assessments and you will not be expected to do any work outside of these hours.
The short course is not a substitute for formal journalism training but will look great on course and job applications in the future.
We've already reached out to our network of student media teams but if you are an editor of a university publication and you're in your final year of study and you haven't heard from us then email training@newsassociates.co.uk and request an application form for our student media editorial leadership course.
You have until midnight on Friday February 19 to apply. Places are limited so we will only be able to accept a maximum of two people per paper.
To find out how to make the most of your time in student media, read our blog post here.
To sign up for our upcoming free workshops, register here.