News Associates achieves 100% gold standard course
News Associates are once again celebrating the spectacular results of our recent Diploma in Multimedia Sports Journalism course – with 100% of our London trainees achieving the NCTJ gold-standard qualification for the second year running.
All 26 trainees on our academic-year course passed all their modules at A-C grade, along with 100 words per minute shorthand.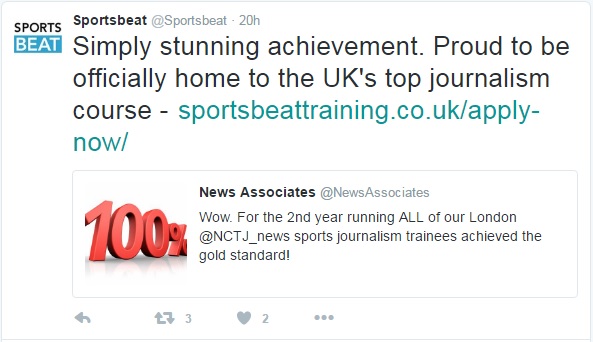 "This wonderful set of results recognises the hard work put in by our fantastic trainees and staff, and I'm so excited to see the job destinations they're going on to achieve," said Managing Editor James Toney.
"They're already covering the Olympics with Sportsbeat, working for Sky Sports News and reporting for our national newspapers."
The course, which is run in conjunction with national press agency Sportsbeat, was the first NCTJ course to have a 100% gold standard pass rate last year.
Former graduates include Sky News presenter Tom Macleod and journalists now working at national newspapers, broadcasters, agencies, in the local press, for Premier League football teams and sports governing bodies.
Limited places are still available for our September 2016 intake – click Apply Now to register.
Congratulations to our September 2015 intake below:
Charlie Bennett
Sean Davies
Shona Duthie
Jake Evans
Katie Falkingham
Imogen Harry
Iqbal Johal
James Johnston
Felix Keith
Barnaby Kellaway
Dimitri Kondonis
Ross Lawson
Thomas McIlroy
Paul McNamara
Alice Piper
Tom Phillips
Tim Redigolo
David Rhys Marsh
Adam Shaw
Ben Smith
Jonathan Spencer
Sam Tobin
Ellie Walter
Mathieu Wood
Benjamin Youell
Ben Young