Hannah Ingram, who studied with News Associates in Manchester, kept a week-by-week blog of her experiences with shorthand when she was studying with us. She joined magazine Lancashire Living after graduating with her NCTJ qualification (including a very hard-earned 100 words per minute certificate in shorthand).
And now the end is here, and so we face the final curtain..
Welcome one and all to my final shorthand blog of our 20-week course, in association with the Frank Sinatra classic, My Way!
It's such a cliché but I really don't know where the time has gone. One minute we're all here on the first day, moaning about how hot the room is and the next, we're strolling out of Revolution after our end-of-course bash in the early hours.
I've waited until now to write this last blog because I knew I was too emotional in the final week!
I decided to take a risk by leaving my unfulfilling admin job and do this course over a year ago. I had always wanted to be a journalist, and getting a degree wasn't enough. I have to admit, shorthand was the scariest prospect and looking back over all my blogs, I'm glad to see my progression in black and white!
We all knew shorthand would fill our lives and in some cases, take over it completely.
I was so pleased to win the chance to write the shorthand blog because if anything, it gave me somewhere to rant about how rubbish my shorthand week had been.
We even had shorthand hairs and shorthand spray paint, which cemented our love/hate relationship with all things Teeline.
Whether you passed in November, December or January – you passed. You have a skill that many would be jealous of, and you got it in five months (or in many cases, even less). Amazing.
Every heart-breaking fail at a text will be erased by every relieving pass, and if you admit it, you might end up missing those reeeaaally long shorthand lessons
So, the final ROLL OF HONOUR goes a little something like this:
14th January – 100wpm
Kevin Burke
Tamsin Eames
James Johnson
Craig Jones
Paulyn Lloyd
David Mayor
Rick Redman
Peter Stanners
Will Unwin
Ross Wittenham Fisher
21st January – 80wpm
Anna Mauremootoo
21st January – 100wpm
Kevin Burke
Tamsin Eames
Peter Stanners
Will Unwin
Ross Wittenham Fisher
21st January – 110wpm
Tom Redfern (I'm so jealous!!)
21st January – 120wpm
John Dickens (Shorthand hero)
Connie Primmer (Doing it for the girls)
Jack Travers (Travers is IN the game!!)
So, whether you passed once or twice – well done to all! Special mention to one of the agency journalists, Jack Travers, for loving shorthand so much that he passed 120wpm when he possibly didn't need to.
I thought he just sat in on readings to be 'in the game' for no real reason – turns out, he's a shorthand genius.
I know there's a few people waiting to pass – but you WILL get there in the end.
You can probably tell that I don't want this blog to end by the length of it, but I will really miss writing them, probably just as much as I'll miss seeing the same faces Monday-Thursday, drinking a hell of a lot of tea and eating everything that Greggs makes.
I'll sign off by saying this – thank you so much to our amazing tutors for getting us through shorthand (dragging us when we needed it) and good luck to all the fabulous friends I've made on this course. I'm very sad that it's all over but I'm sure there are plenty of reunion nights out on the cards.
Until then, in the style of the last dance at a 60th birthday party..
And now the end is near
And so I face the final curtain
My friend I'll say it clear
I'll state my case of which I'm certain
I've lived a life that's full
I travelled each and every highway
And more, much more than this
I did it my way
I've loved, I've laughed and cried
I've had my fill, my share of losing
And now as tears subside
I find it all so amusing
To think I did all that
And may I say not in a shy way
Oh no, oh no, not me
I did it my way
Hannah xxx
More shorthanders potentially pass the shorthand finishing post..
Last week's shorthand exam saw more willing Newsies take their 80 and 100wpm exams.
With little over two weeks of the course left *wipes away tear* this was one of the final chances for people to get a shorthand qualification under their belt while still in the News Associates house.
The 100wpm takers were treated to a text about, as I understand it, a street party.
I asked them to sum up the exam in one sentence.. some interesting replies:
Ross: A train wreck from which it will take a week to find out whether we were fatalities or just missing.
James: It was just awesome. The text was about mental street party complete with hog roast and cakes.
Technically two sentences but will let it go..
Rick: An 'over-reliance on memory' was unavoidable because the exam was a street party no-one could ever forget.
Rick also expanded further, making it possible to imagine being there.
A local band headlined the block party after being enticed by a hog roast and promises of a stage on the north end of the road.
The Jones family offered to make the cakes but only did it to meet GREAT people and discuss all the latest hot gossip about their neighbours.
Immense.
Those shorthand text writers must have a good chuckle when brainstorming ideas. Ahem.
After my failure at the first go of 110wpm, I have decided to try again this week. Nothing like a petrifying exam to get the best out of a shaky shorthand hand..
Teeline notes that look like a heart monitor reading = brilliant.
Santa didn't bring me a 110wpm pass.. therefore, he does not exist
I spent the Christmas holiday wondering whether I'd cracked the shorthand nut of 110wpm.. I debated how close I could be following the mini-break off I had in the exam.
Turns out, not that close.
I chose to take the exam on my birthday and even though I haven't passed, I had a bloody good birthday which included getting a Canon 500D which is a-maz-ing.
Who needs a 110wpm pass anyway? *bitterest person in the room*
However, some of our clever beans used the energy provided by Cadbury Heroes on exam day to power through and score a pass.
Roll of honour *drrrrr tish*
John Dickens (100%)
Connie Primmer
Deborah Trickett
Well done chaps.. good to see Connie and Debs doing their bit for the girls!
The 100wpm text was, in short, horrific. I was listening to it feeling glad I'd already got mine because the NCTJ really came a cropper with that one.
It was complicated words ahoy!
The next attempt for me will be late January.. which basically means keeping up my scribbling while watching TV to keep my mind fresh.
This is ever since I fell out with Dawn and Marie. It was emotional.
I need more 110wpm texts so I figure trying to keep up with Coronation Street will be good practice. Especially since the tram crash which has made my daily commute into Manchester much more tense.
You never know when it might pass over a bridge that, in real life, it doesn't pass over and that'll be it. Poor Molly – although when a tram careers off a viaduct in your direction, surely you would run in the opposite direction rather than let it chase you and plough into the corner shop?
Anyway.. shorthand..
I did practice over Christmas, but was a bit disheartened when the results were online and I hadn't passed. It's game on now – practice makes perfect (or at least, it should).
Good luck to everyone taking shorthand exams in the coming weeks, as we spent our final few weeks in the News Associates house.
You could have carried shopping in my eye bags during the week before Christmas, which will now be known as 'portfolio panic' week, but it's all been worth it.
So as we scurry around for jobs from February onwards, keep saying that to yourself!
Passing 100wpm and taking the 110wpm exam just for fun..
The joyous news of a few more people passing their 80wpm or 100wpm exam arrived at approximately 6.18pm on Monday night.
I had passed 100wpm so was very happy – well done to the following clever beans:
Passing 80wpm:
Tamsin Eames
Passing 100wpm:
Steven Bell
Natasha Carter
Natasha David-Hilton
Daniel Etchells
Ryan Gallagher
Jessica Haworth
David Ingham
Alexandra Moerschner
Mushtaq Quraishi
Tom Redfern
Anna Winter
(If I've missed anyone off, please let me know!)
The Shorthand World Cup was also launched, much to the excitement of Jack and David who brought the coveted trophy down from the office under a jacket.
Some epic ties were lined up, including shorthand super champ John Dickens versus 100wpm 100% passer Marcus Chippindale, which saw the former sweep through to the second round with zero mistakes versus Marcus' six.
Deborah Trickett didn't quite grasp the concept of choosing the speed for her home tie against James Johnson – she took it to mean 'what speed are you working at?' which is 110wpm, whereas James is looking to pass 80wpm.
Cruel Debs, very cruel.
I got through to the second round after beating Steven Bell with one mistake at 100wpm compared to his five.
I now face the 'People's Champion' – Mushtaq Quraishi. Eeek.
Whatever happens, it's a good way of keeping everyone doing shorthand. Those who passed early might have stepped off the gas, and those who passed the last exam might be feeling sheer relief and wish to never see another outline again.
But with an epic trophy up for grabs, we'd be silly to wimp out now!
After I saw I had passed 100wpm, I was up for giving 110wpm a go on 16th December, my birthday. I had passed a few in class and just thought, what is there to lose?
Either way, I know how to celebrate.
As it turns out, the 110wpm text sounded nicer than the 100wpm text which was all about electricity and 'power down' – I hated it every time that Marie Cartwright said 'power down day' so god knows how they were feeling.
I await the results with mere curiosity – I think it'll be a nice to pass but I'm not expecting to after a mini break off in the first passage.
Reading my notes back was a challenge – 'only' looked like 'we are' after writing it in such a hurry..
I counted all the words I'd written in longhand and was missing about 3.. so if I've got the rest of it right, I might be ok.. *laughter*
Post-exam, we went for a celebratory drink where most people kept asking about the key quote on 110wpm – it has to be between 25 and 35 words – it was dead on 35.
It must have been.
We were in agreement that it was a tough key quote because there was no real signpost to end it so it was a case of deciphering whether this manager of the expanding shopping centre had finished the key bit of what he wanted to say.
As a student of shorthand, who has seen her fair share of struggles on the road to 100wpm, I WOULD LIKE TO MAKE THE FOLLOWING CLEAR. "It would be the best Christmas present to get my 110wpm, but if this isn't possible, I will take an Audi R8. Preferably in silver, but if it has to be white, I won't mind." That is all I have to say on the matter.
35 words. Brilliant.
Fingers crossed fellow 110wpm attempting folk!
Ah yes.. the 100wpm exam was a load of sausages..
Apologies for the delay in this week's / last week's blog – I was a little preoccupied trying to cram my brain with all the things I never understood about PA the first time round.
Also, the reporting exam was something else.. difficult isn't the word!!
Fellow classmates have googled the stories involved – surgical equipment actually has been contaminated in the past.
Scandalous.
Fireworks disrupted a real funeral also.. only in Yorkshire!
Those taking the 100wpm exam were treated to 'Brown's Sausages sponsors football club' I think, while for the 80wpm takers, it was a load of pyjamas.
It was about a local football team with no money who needed sponsoring.. much like my beloved Bury FC, who had been reported the day before as being a little bit skint last season.
I thought the exam went ok and hopefully I've passed, although you never know.
My hand actually started to shake at a few points in the exam but I was determined not to fall behind, not even by as much as a sausage (joke contributed by Natasha, the joke machine).
I now check the NCTJ website like a woman obsessed, but alas, no results yet.
It seems like every other centre in the country, maybe even the WORLD is online and yet we're still waiting.
I'm considering taking the 110wpm on the 16th of December, my birthday, just for the hell of it. I've passed a few in class so what is there to lose?
Dignity? Senses? Sod it.
The 80wpm exam consisted of warnings against wearing pyjamas to the shops.. I can totally understand this crime wave – it has to be stopped now.
Good luck to everyone waiting for results.. hopefully it won't be much longer now.
*gulp*
So the 100wpm exam is a week away, and our pens are a-twitching..
It's very much like the X Factor or Strictly Come Dancing – show the audience (the NCTJ) what you're capable of and get through to the next round.
I'm sure we would all rather hear what Bruno Tonioli has to say about our teeline, but we will settle for those who know what they're looking for.
Whether 100wpm is your finishing post or if carrying on to 110wpm floats your boat, Friday 3rd December is firmly etched in our minds.
You know, along with revision for Law and PA, and the constant reminder of how hard it is to pass reporting.
Gulp.
We kept on warming up with 110wpm readings, which I actually kept up with for the most part, as I have gradually got over my stumbling block of panicking at a tricky outline..
"We want to place these gates at strategic.."
Strategic? What? Errrrmmm… *scribbles and tries to catch up, now about ten words behind*
Hmm.. I mark the paper and have 20 mistakes, but at least I got strategic right.
On the positive side, 100wpm sounds slow in comparison which is a brilliant feeling. If you hear a phrase, have a special at the ready and end up AHEAD of the speaker, it's a party all round.
God bless the 'car park', 'as a result', 'in particular', 'as soon as possible' and 'town centre' outlines!
This brings me onto a new feature to the blog – Shorthand Spray-paint.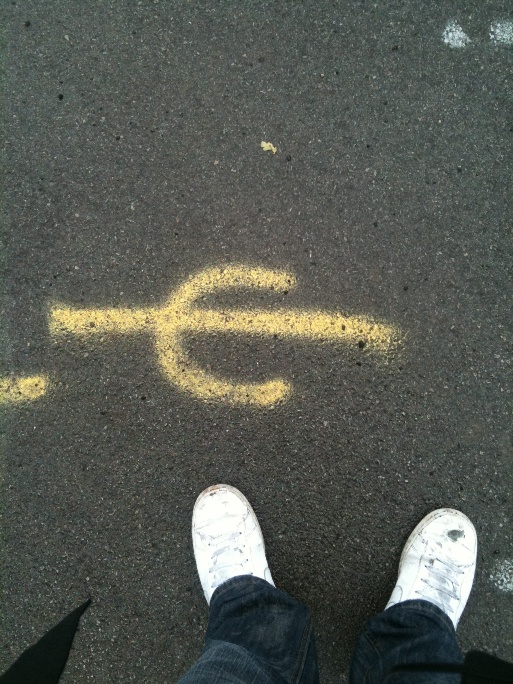 This could well be the only week it is featured, but judging by the amount of scrawl on Manchester's pavements, who knows?
It's much like the Shorthand Hair, but as the name suggests, this features the work of the fluorescent jacketed men masquerading as town planners.
They could all be 120wpm geniuses for all we know.. although they do hide it well.
This photo has been sent in by James Johnson.. enjoy! (I sound like a children's TV presenter reading out the mailbag.. apologies)
Anyone else with shorthand hair or spray paint pictures, please let me know – if only so I don't look like a graffiti artist who malts a lot.
I'm now off to scribble along to anything and everything I hear as practice for D-Day on Friday.
I just hope next week's blog is one of elation rather than "OH MY GOD, I MUST HAVE FAILED, MY LIFE IS OVER – WHOEVER WROTE THAT TEXT NEEDS TO HAVE A WORD WITH THEMSELVES."
As long as nobody plans to get 'injured' in 'strategic' places.. 'of course'.. we should be ok.
It's the final countdown.. do do dooooo..
The next 100wpm exam looms in two weeks on December 3rd, so suddenly we are all becoming very aware of how close we could be to cracking it.
It's a pretty impressive feat if we do, seeing as we'll be roughly three quarters of the way through an intensive course.
A journalist I see at most Bury games always tells me how it took him a year to get his, showing how far we have come in a short space of time.
Cue the inspirational music!!
And now for the uber exciting news about the clever beans who took the exam last week… drrrrrrr *tish*
The roll of honour..
Jonathan Brown
Marcus Chippindale (100%)
Patrick Dennehy
Monica Eden
Bethany English (100%)
Elaine O'Flynn
Katie Ollier
Connie Primmer (100%)
Deborah Trickett (100%)
John Whitney
(If I missed anyone off.. please let me know!)
Well done to you all! I'm not jealous in the slightest of your Thursday morning lie-ins from now on 🙂
I started this week with high hopes after passing my 90wpm and celebrating with houmous.
Things couldn't have got any better when I passed a 100wpm with three mistakes, woo! That long wait for an ambulance text worked a treat.
I was sorry about Mr Hall's death though – heart-wrenching stuff.
This was coupled with two failures and another pass, so all in all, not a bad week.
I now have two weeks to blast through Dawn Johnston's amazing speed trainers.
I say amazing, I mean patronising.
If you're feeling like it's dragging you down and you need a break, press the speedy up and slowing down arrows either side of the audio slider (I have NO idea whether this terminology is correct).
It's much the same as when Scott Mills makes celebs sound drunk by slowing their voice down on Radio One, so Dawn goes from slurring her words to sounding like a chipmunk high on life.. happy days.
Let's face it, there's only so many times I can 'repeat it aGAIN' Dawn – quit it with the posh voice.
We all know she's probably from 'oop norf' really.. and that accent won't get her a royal wedding invite!
Phew.. and breathe..
Most of my practice over the weekends consists of transcribing along to Strictly Come Dancing etc, but after Ann Widdecombe's samba, I was crying with laughter..
I'll go back to the X Factor this weekend – at least I'll be writing the same things over and over again..
"I.. WANT.. YOU.. IN.. THE.. FINAL!"
Passing 90wpm – the happiest day of my life.. FACT
I had pushed myself to the limits over the weekend leading up to this, my successful week, which included watching Airline (?) on Saturday lunchtime and transcribing along.
In my defence, it was the first programme I found. It was a Christmas special documenting passengers' inability to tell the time, ending in heated arguments after they missed check-in.
This was an error – I got slightly too engrossed in angry people collapsing on the floor in hissy fits, so I had to watch the next episode.
Anyway, this was meant to be practice for my apparent inability to remember to use the 'R' principle.. it's a great concept – if I actually remembered to use it.
I had been stuck trying to pass 90wpm for some time now, and our little club was going strong.
We'd go up to the test room and be asked "Anyone done Water company cuts off water supply?" and we'd chirp back.. "Yeah, and we don't like it. Next!"
It just so happened that the piece about a new old people's day centre was right up my street.
It was going well, I was keeping up (ish) and when I wasn't, I wrote something down for every word. I transcribed it back and had an OMG moment.. I think I might have actually done this.
I marked it and I'd passed with two mistakes. CAN I GET A HALLELUJAH?!?!?!?!
I was on cloud nine and celebrated with pitta bread dipped in houmous.. happy days.
It wasn't just me, as both Jessica and Natasha passed the hurdle this week – meaning the 100wpm group is now pretty large.
A group of them braved the 100wpm exam on Thursday morning – fingers crossed ladies and gentlemen!
My 100wpm attempts ranged from 35 mistakes, to 15, to 11.. so who knows? Maybe I'll be super ready for the next exam.
I spent my lunch break on my Friday placement writing out song lyrics which I then posted on Facebook for people to guess, like the geek I am.
The first one was the Beatles classic Yesterday as I always forget that special. Safe to say it has now stuck in my sponge brain, as has 'maybe' after my Wonderwall effort.
I think a craze may have started amongst us.. watch this space.
Sadly there are no shorthand hair moments to share this week – I tried to create one on the desk but it's just not the same as discovering one naturally.
Anyway, seeing as it's the weekend, I plan to celebrate my 90wpm success with a large glass of cherry beer. It's all about the little victories..
Dream the impossible 90wpm dream..
Soooo I've been trying to get past the hurdle of 90wpm for ooo.. two weeks now?
It's nothing short of frustrating when you go up to the test room for a reading, all psyched up and thinking "This is MY time" (at the risk of sounding like an entrant on Over The Rainbow) only to hear you were nowhere near passing.
Me: How many mistakes am I allowed over the two minutes?
Tutor: I'd say about five, maybe six.
Me: Hmm.. I'm hearing what you're saying, but how do you feel about, say, 18?
Tutorl: Not reeeaaally, I mean, it's not even close. Just try another check and you'll get there eventually.
*despondent me trudges back to my seat and sighs*
We are told it's like the driving test – you will pass it eventually, it just takes time and sometimes a few attempts.
I passed my driving test first time, so as you can imagine, this is just plain annoying.
On a brighter note, the paper recycling bin is occupied with my failed attempts, so effectively I'm saving trees by constantly failing. Aaw.
A fellow member of the 90wpm club, Jessica, complained of having 'death by shorthand' early in the week, and even needed Wednesday off to recover from said disease!*
Jess also broke a 90wpm club record (as far as I know) with 83 mistakes. Pretty epic, but surely she must have got seven words right. Little victories!
This week sees the return of the Shorthand Hair feature – this time it is even more amazing. A hair on the tiles in my bathroom formed the hospital special outline (which I already love anyway) so I had to share it.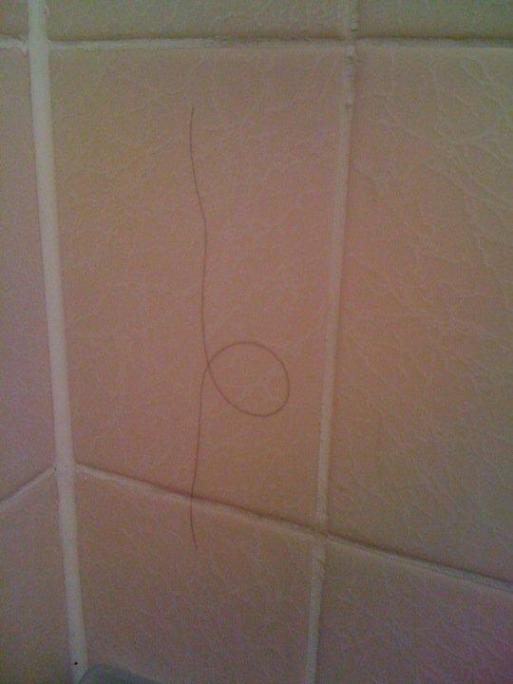 Some of the comedians in our class got reprimanded this week for renaming the shorthand folders on the shared space.. tut tut!
Saying that, I did laugh each time I saw "I love shorthand" changed to "DEATH" and "Cartwright" changed to "Cartwrong".
Ahem.. however, it was very naughty. Don't do it again kids!
Come back next week for another edition of "I can't get past 90wpm and if the windows opened wide enough, I'd be jumping out of them"
Hmm.. that is incredibly negative so in the interest of being positive, I'll just smile and assume I'll be joining the 100wpm club next week.
We can all dream..
*I am, of course, joking.. she was actually ill, and missed our awesome features talk in the process.. gutted!
Welcome to my 80wpm plateau..
Aaah yes.. after spending a little while back in the day struggling to get past 60wpm, I'm now stuck in 80wpm town with the 90wpm hurdle seemingly impossible to get over.
It all started so promisingly, what with the tin foil imagery at the end of the race, and my euphoria after passing 80wpm with two mistakes.
I seem to start off ok listening to dictations, tracking the speaker and generally doing alright. But it only (oni) takes one word (double sized w, d) to trip (tr blend, p) me up and it's game over.
This is major (use a g instead of j) error time.
I need to get over this and just get something down for every word – a psychological battle that seems impossible.
The typical trip up words for me are stuff like 'injuries' – total ballache of a word, which from now on, I think I'll write as 'ing' and have done with it.
Failing that, can everyone stop getting injured? (a la Lock Stock.)
After a rant comes the good news – John Dickens took the 100wpm exam on Saturday (whose brainchild was it to hold exams on Saturdays?) and early indications show (god.. I should work for the lottery) that he passed it.
Immense! Well done John.
I'm not jealous, honest. In fact, I might put up a tent in 80wpm town as I love it so much and I could be here a while.*
*This is far too negative, forget I said that.
There was a little group of us on this side of the class who were united in trudging to the test room every time for a 90wpm check and then huffing all the way back ten minutes later saying now stock phrases such as "Well, that went well.." *rolling eyes* and "I missed out a whole sentence.. no wait, two."
But then Anna Winter had to go and pass it, leaving us behind. Sob!!
I know I'll get there eventually.. it's just a case of powering on. I was even practising by scribbling along to the X Factor – although this means you write literally the same thing after every act..
"You made that song your own"
"You are what this competition is all about"
Or Dannii's favourite: "You smashed it at the end"
Anything's better than Dawn and Marie..
Passing 80wpm with two mistakes? Woaaahh.. hold on a second..
After scraping through the 70wpm check with a few mistakes, I then took on the 80wpm task.
This was made a lot worse after I contracted the News Associates Cold© and arrived on Monday morning looking (and feeling) like death warmed up.
Listening to two minutes of Dawn or Marie was practically impossible without sniffing, sneezing or moaning half way through.
Pen-throwing and grrr-ing was increased dramatically because of this..
I started to care less and less about the village's local history group, who I think meet every Sunday night, as I made my way to a minute in before quietly throwing my pen down (it's possible) and whispering "Right, that's enough.. I can't do this" so as not to disturb others working so hard.
Which reminds me..
WELL DONE TO ALL OUR 100WPM PASSERS THIS WEEK!!
The following clever beans have conquered the shorthand demons and chalked up their 100wpm brilliance.. *drrrrrr-tish*!
Connie Primmer, John Dickens, Patrick, Jonathan..
Seven weeks in and you're already getting your gold star, well done.
Our tutor mentioned trying to note down song lyrics in shorthand this week.. I've already tried this and it's pretty funny.
Don't try Eminem though..
He also recommended watching the news and trying to take down what the reporters say on your pad, even if you just get a sentence.
I went on another tangent and tried this while watching The Inbetweeners.. brilliant.
We tried an 80wpm check on Wednesday, and after spending Tuesday in bed with the death cold, I thought I'd wake up with a new lease of shorthand life.. sadly not.
I missed an entire sentence. Whoops.
I wasn't too optimistic, thinking that 80wpm wouldn't be possible this week but miraculously, the Thursday check saw me pass with two mistakes.
I was so pleased – when I was doing the test I kept thinking "Oh my god I'm actually keeping up with this.. woaaahhh this is a good feeling" – specially when I'm usually two-three words behind.
I transcribed it back and I started to agree with the people campaigning to get policeman Ted Brown back on the beat.
He stops crimes before they start – what a legend.
Obviously, 90wpm is the next hurdle for me. I can see the people at the end of the track holding the tin foil for me to run into, it's just a case of getting there..
*Chariots Of Fire plays while the entire class runs down Piccadilly in slow-mo…*
Now a resident of 70wpm town.. but couldn't tell you how..
After a rant-filled week last week, this one was a marked improvement!
I managed to pass 60wpm after taking residence at the Plateau Hotel for a good week – it's a lovely place, but I couldn't help thinking I wanted to upgrade from a 50wpm room to a 60wpm.
Oh no.. there go the metaphors again.
When my name was read out to say I had passed, I actually said "WHAT?!" out loud, instead of in my head.
I couldn't believe it. I'd struggled so much with 60wpm so it was a huge relief. I was beginning to think Dawn and Marie were ganging up on me, saying "Read at 60 words per minute" as if they meant "Seriously? Come on Hannah, you've been here a while now."
The word patronising doesn't even come close.
To make things even better, I passed 70wpm on Thursday. What's even more surprising is that I lost the speaker for about five seconds in the middle, and therefore had to rely on my ever-decreasing sponge of a brain to actually think.
How old was the "young man who was stabbed"? Hmmm… 18? Let's go with that.
I never thought it would work, but I passed. With five mistakes but you know, it's all about the little victories.
Speaking of which, getting the last parking space at Radcliffe Metrolink this week was wholly satisfying after a week of arriving disappointed.
Shame for the woman in the Peugeot behind me who looked royally miffed. Better luck next time love!
So yes, shorthand. I think in shorthand now which is shocking. The guy I sit next to in Bury's press box always shouts "Oooo that's a hospital ball!"..so I wrote it on his team-sheet last weekend.
Everyone loves the 'hospital' outline. If you don't, you should.
I managed to help my boyfriend with his English lesson plan whilst learning shorthand – he was doing a lesson on 'linking phrases' in essay writing, so I reeled off "however" "at the same time" "on the other hand" and other geek-induced phrases whilst writing down the symbols.
I knew I'd taken it too far when I started thinking of outlines to song lyrics.. whilst listening to them. My friends now wonder why I look so vacant while they're speaking to me – I'm too busy thinking how I'd write "Whaddya think to the cinema and a curry on Friday?"
My relationship with the demon shorthand is now back on track, we're looking to move in together in 80wpm town, but I think it could be a bit of a challenge, given the economic climate..
The 60wpm NO ENTRY sign en route to Shorthand City
I'm not going to sugar-coat this – it's not been a good week for me!
It all started with moving house last Friday – first night in my new abode and my one-year-old car gets keyed down the length of it. To add insult to injury, it had just been freshly washed and serviced. Joy!
I was gutted for the entire weekend, so any time I did shorthand I wanted to cry. I had too much on my mind and outlines were shooting out of my head quicker than they went in.
Hmmm.. maybe I should go and see that Geordie agony aunt on This Morning..
On a funnier note – my new neighbours woke me up at 3am on Wednesday morning as they were sitting outside drinking wine and smoking in their garden. Initially, I was uber annoyed. This was until I looked over into their garden and saw the wooden bench they were sitting on collapse underneath them.
Hil-ar-ious.
So good, in fact, that I had to check in the morning I hadn't dreamt it by looking into their garden again. Bits of wooden bench were still scattered across the patio. Aaah mid-week drunkards.
Moving onto shorthand, I had 50wpm nailed eventually, with one mistake. I was happy and thought the move through to 60wpm would be a similar route.
How wrong could I be?
I have well and truly hit my plateau – we were warned it could come and mine has for sure. I start off ok and then lose it in the middle before picking the speaker back up at the end. Useful. Reeeaaally useful.
It's like wanting to turn into a car park, telling the fluorescent man at the gate that you're looking for 60wpm, and them saying "Naaah I think you're looking for 50wpm love, turn off before this one."
Total metaphor overload. Blame the wine.
It's probably due to being so cranky all week, but by Thursday I was ready for giving up. I just keep thinking about the cretin who's keyed my car and then it's the old "thinking is death" mantra coming back to haunt me.
Think of the outlines.. think of the outlines.. not the hooded idiot with the key and a sadistic mind.
I NEED to learn more specials and vowel indicators! They constantly trip me up and leave me wanting to throw my pen around like a maniac. Every time I get something into my head, it pushes something else out.
I hope I'm not alone with this.. otherwise I'll get the number for This Morning's Denise on speed-dial.
We've been told to make sure we track the speaker and just get something down for each word. It's a good theory, but when I look over my notes, I know that "as the him was wait for is a before wheelchair" makes little to no sense.
On a lighter note – who feels sorry for Marie Cartwright? She seriously sounds like she needs a brew and a cuddle. Every time she says "Speed development passage" I can feel her sighing. Maybe speed dating would be the answer to spice up her life? Fifty dates a minute? Sixty? Perhaps Dawn could set her up with her 'chunky hunk'.. the possibilities are endless..
Let's just say my status has changed; I'm no longer "In a Relationship with Shorthand'.. after this week, 'It's complicated."
Please sir, can I have some more (shorthand)?
First of all, I'd like to apologise for that truly awful mugshot that accompanies my blog. Crimewatch would be proud. All I can say is that when you get taken out of an intense shorthand lesson to be 'papped', this is what happens.
The campaign for changing it is under way!
Week four of the course shoomed by, and we were offered the chance to attend an extra shorthand lesson on Tuesday evening. As in, 5.45-6.45pm after an already long day.
Mmmm yes, where do I sign?
After signing up, I realised I would miss my beloved Bury FC's match at Morecambe, which I would ordinarily report for the club's website.
They won 4-1. But it's ok, I'm really not bitter. Totally over it.
Anyway, a major strop on Sunday evening had seemed to confirm to me my worst fears – I am garbage at shorthand.
My boyfriend looked at me with sympathetic eyes as I repeated: "I can't do this!"
He bought me a Dairy Milk 'bar and a half' (epic in itself) and all was ok.
Monday arrived and I signed up after the extra lesson was muted.
We were asked to note down things we wanted to discuss again, and the best suggestion goes to Richard with "I'm just crap at keeping up with dictations." Take a bow my friend!
My suggestion of "Vowels.. ARRRGGGGHHH!" just wasn't as good.
The extra hour was actually really helpful as we reminded ourselves of the sexy X blends amongst other things. We also did a dictation from cold at the end of the lesson, with both sides of the room competing to get the least mistakes.
We won by the way, David, so maybe bring some wine next time?
We also did a 40wpm dictation from cold as a class during the week, and I actually passed. I was pretty happy with the smiley face doodled on my transcription.
If anything, I was just glad it wasn't Dawn whining at us about 'the lead singer who was one chunky hunk' in task 11.2. Course he was Dawn..
Speaking of our mate Dawn, is anyone else deafened by the dictation whenever they first click on it? If my Grandad was partaking in our lessons then yes, by all means crank it up to the same level he has Coronation Street at.*
Ear-drum bashing aside, it's been quite a successful week seeing as I thought I was ready to give up on Sunday night.
Our 40wpm for two minutes test on Thursday seemed successful on the whole, and I was pleased to pass with two mistakes. Bring on the 50wpm!
I can feel the regret of saying that already..
*Next time I visit, I will be imagining that Gail Platt is shouting in shorthand.. dammit.
Dictation = Dictatorship?
So it's week three, and everyone's still alive! To celebrate this fact, the first (of many I hope – as I couldn't make it) News Associates Quiz Night was launched, whereby everyone brought booze to the newsroom and got ratted whilst attempting a quiz.
I'm not bitter I couldn't attend.
Ok, maybe a little bit. *sad face*
Dawn 'WHeelCHair' Johnston was now a firm friend of ours, despite the fact that she sounded greedy during the epic tale 'New shop to open in June' – she basically said she hoped people working in the 'new shop' would then proceed to spend their earnings in said shop. Vicious circle methinks… how many newspapers, magazines and sweets does one person need?
We seemed to have most of the basic theory nailed on at the start of the week, and were focusing mostly on dictation and getting our speeds up. I kept stumbling on the same symbols so I made a drill sheet in a huff to get them right.
Probably the wrong way to go as I might be over-thinking the whole thing, and as we know, "Thinking is death in shorthand".
As lovely as Dawn is, I can't help feeling like she's still patronising me. She throws in a curve ball now and again and always seems to trip me up. The annoying thing is, it's usually something relatively simple like 'to have been' – sometimes Dawn just needs to shove her Task 6.1s where the sun doesn't shine. Yeah, check YOUR outlines Dawn!
Phew. And Breathe.
Note to iPhone users: If you fancy being a pro geek and putting Dawn on there to listen to during the Met ride home, on a Sunday afternoon or even at the gym – make sure the iPhone knows you've put the earphones in before you start Dawn off. The whole of the Met was treated to the delights of "Task 5.4 – New shop to open in June, read at 40 words per minute" booming from my phone on Tuesday. Not cool.
My new favourite special symbol is officially 'before' – what a beauty. Looks a bit like a squashed version of the Vivienne Westwood logo, but only after a few hours of shorthand practice.
We're being tested with some dictation from cold on Monday…*there's that nervous laughter again.* I can't say I'm looking forward to it, as every time I learn something new, something else shoots out of my head.
It'll be emotional.
The Demon Double Lesson
Shorthand entered its second week with everyone on the course still alive (or at least they looked it).
Then came the clanger – the TUC conference landed in Manchester, so as half the class went along, the rest of us worked on patch stories and/or shorthand.
Conclusion of said conference = demon double shorthand on Thursday morning. *nervous laughter*
We were told to 'prepare mentally' for almost four hours of the stuff. I did so by having a large glass of red wine whilst out for tea with friends on Wednesday night, and probably shouldn't have driven home.
Natasha and I came armed with re-enforcements – Red Bull and Jaffa Cakes.
We all made it to the end, and in that time, we learnt plenty of juicy theory including the FB blend (pretty nice), the RF blend (yeah, not bad) and the FM blend (complete ball-ache).
We then carried on with dictation by listening to Dawn 'WHeelCHair' Johnston – it took me ages to get past that word, and every time she said it, it just sounded more patronising.
My new hurdle is 'injuries' (my nemesis if you will) in the joyous passage 'Accident at the bus stop'. I'm going to try and completely get it in one go by Monday. I'm also planning on copious amounts of tea-drinking, sitting inside and not socialising. Hello weekend!
If I see one more cocky vowel indicator – I will scream inside. They love tripping me up!
During the demon double lesson, my mind became so mashed that during a trip to the ladies, I saw a long hair on the floor, which is grim in itself but even more special than that, it looked like it was communicating shorthand (amazing). See the photo evidence and a) check out how gross the floor is, and b) work out what it could say: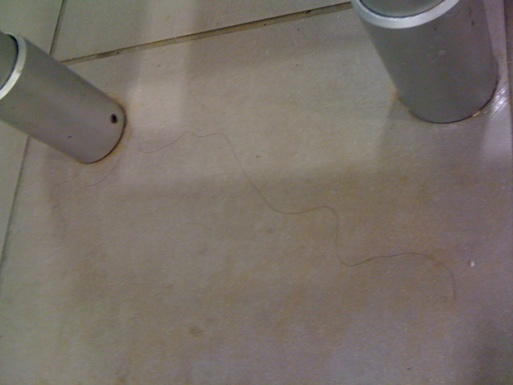 Shorthand tutor's quote of the week – "Thinking is death in shorthand"
He also steered us away from alcohol, drugs or any other artificial stimulant by explaining 'there is no better feeling in the world than getting your 100wpm.'
Safe to say, I worked damn hard for the Subway sandwich I had after reaching the finishing post.
Learning another language
In the weeks leading up to starting the course, I convinced myself that shorthand would be like learning another language. This scared me because I took French at AS level and had to get out of there after two weeks as it went at a pace that was too fast for me – I was used to strolling along with GCSE French!
Then I remembered – this is a 20-week intensive course, and will most likely be at a similar pace. Eek.
I just hoped that I wouldn't end up with the same borderline-psycho French lady who galloped from the start of the lesson, constantly patronising us if we didn't immediately grasp a concept.
Thankfully, we've been blessed with our shorthand tutor, whose most common phrase after the first week seems to be "The book says to do it this way, but I wouldn't bother."
His dry and honest way of teaching has gone down a storm with me, and I keep feeling a sense of satisfaction when he asks for an outline for a word and surprise surprise… I've actually remembered it.
At first, I thought "I'm not going to get this – everyone around me seems to have nailed it already", but gradually it's starting to click.
I'm finding the vowels and their indicators hard to remember, but I'll get there with practice!
I'm practicing when I can, including next to some smelly Metrolink users. I'm looking forward to picking up the pace, ditching the longhand notes and understanding the vowels.