Whether it's the roar of 76,000 at Old Trafford or the crowd's screams at a Stone Roses reunion gig, Manchester is a city with plenty to shout about. Rising to prominence on the back of the Industrial Revolution, the capital of the North was so important to this country's textiles trade that it was dubbed "Cottonopolis".
Modern-day Manchester combines historical industry with modern-day glitz. It is an intoxicating mix of earthy back-street boozers and swanky high-end bars, second-hand record shops and the plush Trafford Centre, boho chic and boutique-bred beauty.
The city that spawned The Smiths, New Order, The Stone Roses, Oasis and the "Madchester" musical revolution is also home to the Hallé Orchestra – the oldest in the country.
It's also the city of Coronation Street, LS Lowry and where Rutherford split the atom. News Associates' office is a minute's walk from Piccadilly train station, which is a little more than two hours from London Euston and connected to towns and cities across the Midlands and North.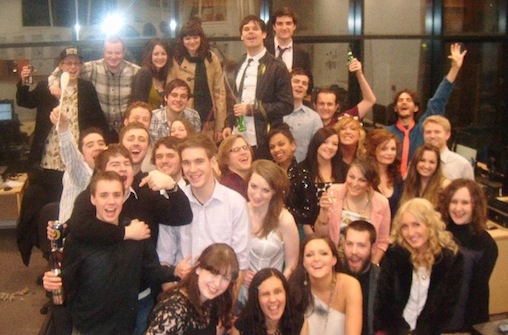 WHAT OUR TRAINEES SAID:
"Manchester is a great news area, with lots of patch stories to get your teeth into. It's also a vibrant, friendly place to live – if you can ignore the rain!"
– Caroline Craig, reporter, Cavendish Press news agency, Manchester
We asked some trainees to blog their way through the course, this is Natasha's guide to her training with us in Manchester.
DID YOU KNOW?
Manchester receives less annual rainfall than Sydney.
THEY SAID…
"In the North-West it rains and it rains. And yet we managed to produce the Industrial Revolution, the trade union movement, the Communist Manifesto and even the goddam computer. Down South, where the sun never sets, you took all our money and what did you produce? Chas and Dave." – Tony Wilson, Factory Records founder

PLACES WE LIKE
The Waldorf, Gore Street
This traditional pub across the road from the centre is a popular choice for trainees celebrating exam success or their first scoops – and always reliable for a well-poured pint of Timothy Taylor Landlord.
Deansgate Locks
Barely a decade ago this was a run-down derelict space. A bit of investment and vision and the old railway arches were transformed into a buzzing nightlife quarter. Pick from bars Revolution, Loaf, Sugar Lounge and Baa Bar, plus the Comedy Club.
The Northern Quarter
This former warehouse district is now a melange of cool bars, galleries and cheap eats. The legendary Afflecks Palace indoor market is a must for the fashion follower with an individualistic streak.
Rusholme
You're spoiled for choice along the "Curry Mile", just south of the city, and the footpaths are thronged with diners every night. Intense competition means bargains galore, making this a popular haunt for students and locals.
MANCUNIAN MATTERS
News Associates works closely with leading Manchester news, reviews, features and sports website Mancunian Matters.
Our trainees work alongside their dedicated reporters and editors and with our offices based in Piccadilly, we have our finger on the pulse of the city.
Click the image below to visit their website.