Home to Great Uncle Bulgaria and his clan of litter-collecting Wombles, the world's most famous and exclusive tennis tournament and the late actor and hellraiser Oliver Reed, Wimbledon is regularly voted one of London's best places to live. 
SW19 is one of the capital's most exclusive postcodes – and Wimbledon has all the advantages of being out of town but is still just 20 minutes from central London. Trains run to Waterloo station every three minutes, while Wimbledon is within easy reach of major destinations on the outskirts of the capital.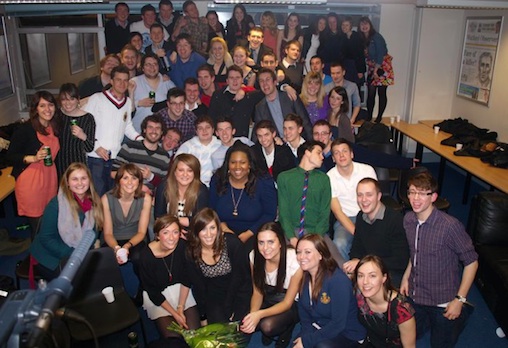 WHAT OUR TRAINEES SAID:
"Wimbledon is a great place to work, study and socialise – you've got everything you could need on your doorstep and you can be in central London in just 20 minutes."
– Matt Davis, reporter, Guardian Media Group
"You don't choose where to study journalism because of location – but you can't go much wrong with Wimbledon – there's so much going on."
– Anniemarie Gregory, OK! Magazine
We asked some trainees to blog their way through the course, this is Joe, Tom, Will, Nicola and Toby's guide to their training with us. It's worth a read.
DID YOU KNOW?
Wimbledon is the site where the sixth Martian invasion cylinder landed in HG Wells' book The War of the Worlds.
THEY SAID…
"When I look back on my life, it seems all my great memories have come from Wimbledon." – Martina Navratilova

PLACES WE LIKE
The Lambourne, The Broadway
The Lambourne is our reporters' favourite apres-deadline hang-out and the traditional venue for trainees to celebrate their first scoops, first jobs and the end of their exams. It has its own nickname too – but we'll save that for your first day!
Visit their website
Wimbledon Village
Ten minutes walk – albeit up the hill – 'the village' has plenty of trendy bars, places to eat and great shopping. Karaoke night in The Common Room is loved and loathed here in equal measure. It's also the place to doorstep the stars – and even Sir Cliff Richard – during the Wimbledon Championships.
Wimbledon Greyhound Track, Plough Lane
It's hardly Royal Ascot but you can't go too far wrong with a night at the dogs.
Visit their website 
SWLONDONER
News Associates and our trainee reporters work closely with leading news, reviews, features and sports website South West Londoner – click on the image below to visit the site.